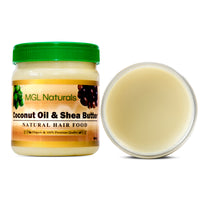 MGL Naturals Coconut Oil and Shea Butter Hair Food | For Hair Growth & Damaged Hair Repair
Our all-time best-selling leading flagship product for super healthy hair growth, edges, beard, intensive hair repair, hydration, nourishment, moisturize and hair manageability. First formulated in 2009 in Ghana, Africa by Israella Kafui Mansu at age 23, a 2018 graduate of the University of Ghana and it has since been Africa's first choice, used by individuals and professional salons, hair food for deep conditioning hair treatment for damaged hair repair, to nourish scalp, strengthen hair, clears dandruff and as hair mask for all hair types.

It softens the natural tough hair making it easy to comb and style freely.

It is also an excellent moisturizer for the skin, lips, hands and feet during winter.
Shop now
Happy customers ⭐⭐⭐⭐⭐
5.0 out of 5 stars The smell is heavenly, highly recommended Reviewed in the United States 🇺🇸 on April 2, 2023 Verified Purchase From the day I found this, it has been a dream come true for my kids and I. This is the only oil we use now, my hair has grown significantly over the past 3 months. I recently purchased my second jar. The texture is not as soft as other oils, that's something I love about it. You don't have to use a lot either, little goes a long way. I will be buying this until they are no longer available 🙃.

Lashana
5.0 out of 5 stars Excellent quality! Reviewed in the United States 🇺🇸 on March 19, 2023 Verified Purchase Love the mission behind this wonderful product! I have been a long time user of Shea butter before it became commercialized and brought to the mass market. I love that the stewards of this precious commodity are sustainably sourcing the Shea butter. This grade is direct from Ghana and has a smooth rich texture with a wonderful scent to balance the nutty and earthy scent that raw Shea butter naturally has. Will order again...and again from this brand.

Amazon Customer
Jena Jackson/ Mom-Kathy Snyder
5.0 out of 5 stars Smells amazing.... Reviewed in the United States 🇺🇸 on April 10, 2023 Verified Purchase Just received mine yesterday and I love the consistency of it. It's not too solid as most butter are, and I believe that it's due to the coconut oil being mixed in. It also smells great! It has a very sweet smell to it. I've already used it on my skin, and now I can't wait to use it for my hair!

layniet
5.0 out of 5 stars The size of this product Reviewed in the United States 🇺🇸 on April 23, 2023 Verified Purchase I just received mine on Thursday and I was surprised at how big the jar was. I was expecting a small jar. I have not really begun to use it yet but I will as I just did a big chop on my hair. I will update as I begin using it. Hopefully I'll see positive results.

Nisha
5.0 out of 5 stars The quality Reviewed in the United Kingdom 🇬🇧 on April 1, 2023 Verified Purchase I am using this product for hair growth. My hair smells very nice and my hair grown so much in a short time. I love the product

Rosemary